If you need to get a small group of people from a to b, there aren't many better options than hiring a minibus. Minibus rental hire relieves the worry of not knowing when everyone will arrive and the hassle of waiting around for different vehicles. With self drive minibus hire the pressure of driving is relieved from the group and handed to 1 designated driver – you know who you are. Based on years of experience in minibus rental, we have compiled a list of the benefits of hiring a minibus, as well as some useful information so you know what to expect when hiring.
5 benefits of hiring a minibus
1. It's cost effective
If everyone is travelling together, each person's individual cost is significantly lower than if everyone was travelling individually. For example, imagine the cost of hiring and fuelling multiple people carriers, cars, or vans compared with hiring just one minibus. If you are looking to save money, rent a minibus.
2. It's comfortable and spacious
Hiring a minibus can be a great alternative to car hire or even van hire. Party of 7? Hire a 9 seater minibus and spread out. Party of 10? Hire a 12 seater minibus and have plenty of extra storage space for luggage or equipment.
3. It's environmentally friendly
By travelling as a group you are taking more cars off the road, and therefore reducing air pollution. Sharing a vehicle means there are less CO2 emissions per person per mile, it just makes sense.
4. You'll have fun!
Sit back, relax and take in the scenery – when do you get time to do that anymore? If you have children or young people on the minibus why not play some vehicle safe games or create a fun quiz based on the trip you taking?
5. Falcon Vehicle Solutions make it easy
Did you know you can hire a minibus directly through our website? With flexible rental options there's no need for lengthy phone calls or time consuming emails back and forth, we get you on the road without any hassle. Alternatively, if you do have questions our knowledgeable team are more than happy to talk you through your options and any queries you may have – it's what we do.
Why you might need to hire a minibus
There are plenty of occasions when you may need minibus hire self drive. Perhaps you've hired alternative vehicles in the past when a minibus would have been a better fit? We've compiled a list of the most common reasons our customers hire minibuses.
1. You're transporting students
If you are a School, College or University you may need to transport students. Minibuses are a cheaper alternative to coaches, especially if you have a small group, and still provide a comfortable ride.
2. Corporate events
If you're planning a team building event for your team or perhaps treating clients to a day out, why not save some hassle and travel by minibus? If you are asking people to travel by train or hiring cars for multiple people, the trip can quickly become disorganised and off schedule – which isn't fun for anyone. Not to mention hiring a minibus is cost effective, helping keep you on budget.
3. Adventures with family and friends
If you've booked group tickets to a concert or sporting event, you are probably not going to want to think about driving. Minibus hire means you can make memories while leaving the driving to the designated driver. Perhaps you are planning a group camping trip or holiday and want to travel efficiently, a minibus is the perfect solution.
4. Weddings
Many couples are now choosing to provide their guests with transport between venues when they get married, finding the event runs a lot smoother when you know where people are and when they are going to arrive where. This also means guests remain well looked after throughout the day, and can enjoy themselves without the responsibility of driving.
Things to consider when hiring a minibus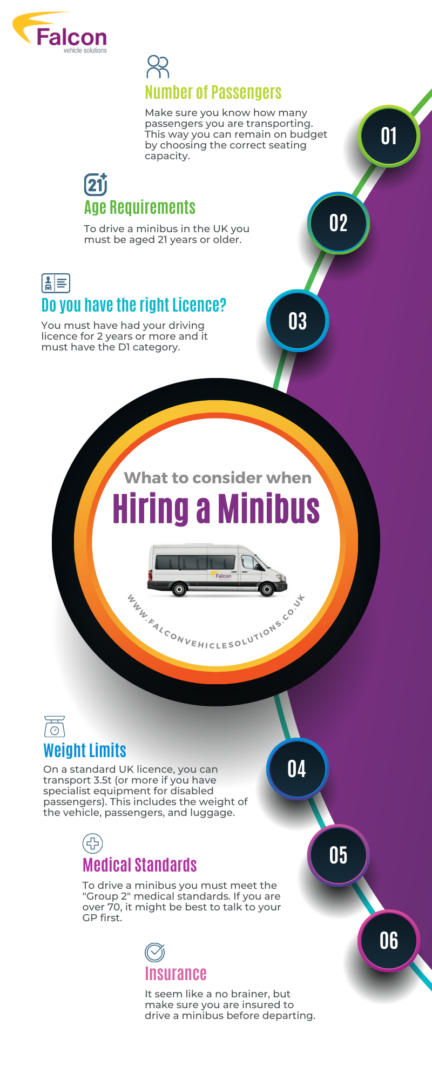 Whether for a family holiday, airport run, or School trip, Falcon has a multi-person vehicle to meet your requirements. If you're in need of a vehicle that can carry up to 17 people, and you have the D1 Category on your UK Driving Licence, then our Minibuses are the option for you.